The headline story on local newspaper (evening Post) dated 9 Feb 2012 was:-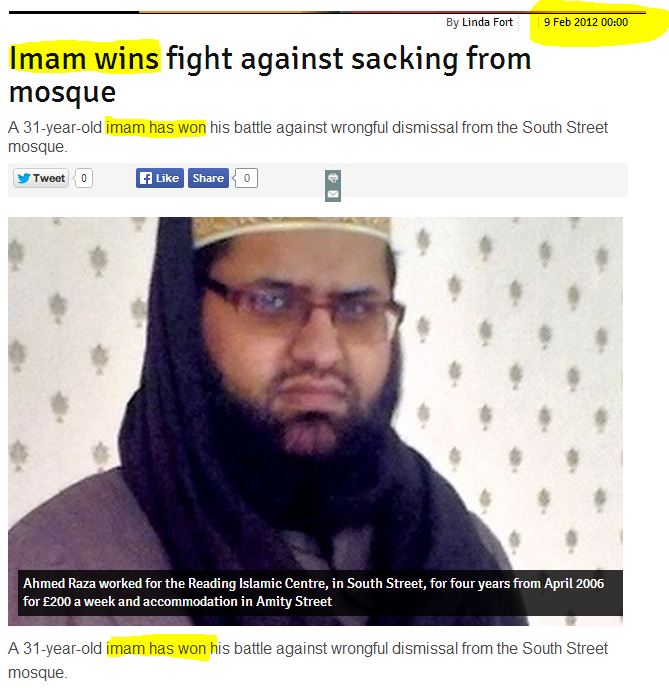 This court case cost the Mosque in region of £15,000 (when you add in the legal costs) and public embarrassment. However, to-date the management Committee, headed by Haji Banaras has always maintained they were in the right.

Although this is now an old story (Feb 2012) , it is here as background information.
Different people still refer to this court case to justify their position. Following actions  appear to be a direct consequence of this tribunal case.
(1) Mosque suffered heavy financial loss and public embarrassment.
(2) Resignation of Treasurer Mr Abdur Rehman Kharal
(3) Breach of constitution when replacing the treasurer 
(3) Falsely accusing Committee members of lying under oath 
(2) Breach of constitution when ignoring almost half Committee members
Its worth noting that even after losing the case, no person ever took responsibility for the case nor was any action taken against anyone. However the treasurer at the time, Mr. Abdur Rehman Kharal , resigned a month before the case hearing (about January 2012). The resignation was never made public, not even the Committee was informed. His replacement,  Farhan Naeem who was Secretary at the time, was selected in secret (without any discussion or vote) to also take on a second role of the Treasurer.
THIS IS ANOTHER EXAMPLE OF BLATANT DISREGARD OF THE CONSTITUTION.
The constitution in para 5.5 clearly states that vacancies must be filled by runners up or by holding a Special General Meeting.
5.5      In the event of casual vacancy/vacancies in the Committee for any reason, the vacancy/vacancies shall be filled in by the Committee from the names of those members who were runners-up at the last general meeting, in failing that by holding a special general meeting convened for that purpose;
I also wish to highlight how this case was played out within our community.
February 09, 2012 –
Headline in local paper clearly states the imam WON, but the mosque Committee spin doctors sent SMS text messages to all members and community stating exactly the opposite:——— Start of SMS Text A ——–
COMMUNITY NOTICE
! Asalaam alikum. As you are aware SOUTH STREET MASJID was in court today, i would like to inform you
the case has been settled in the masjids favour
, the judge agreed with our original offer. ALHUMDULILLAH.
MUBARIK TO ALL
and jazakallah for your prayers…MOST people would sacrifice themselfs for the masjid, its sad to see some people are willing to sacrifice the masjid for their friendship.Jazak Allah.
(SMS text sent only few days BEFORE Court Verdict to members)
——– Start of SMS Text B ——–
COMMUNITY NOTICE! SOUTH STREET MASJID is due in court 2mrw due to alleged unfair dismissal of AHMAD RAZA.I would like to point 2 people who r current comittee membrs ABDUL RAZZAQ,AZAR QURESHI r workin against the masjid, astagfirula!The committe has tried evrything possible to solve issues with Mr Raza, unfortunately
specific membrs who r making FALSE allegations
masjid maynot succeed. I only ask u pray for best intrests of the masjid.Jazak Allah
——– End of SMS Text B 
——–
Please remember, all information above is in public domain or was sent out as SMS Text message "COMMUNITY NOTICE!". The SMS text messages are in the original format with all typing errors and shortcuts. SMS texts were all sent from 
mobile phone of 
Chairman (Haji M. Banaras)  or Secretary ( Farhan Naeem).